Rice University offers an excellent program in mathematics leading to a Ph.D. Our graduate study program features qualities that set us apart from other mathematics graduate programs in other high-ranking universities.
These qualities include:
the commitment and reputation of the faculty
small class sizes (5 to 9 new students accepted into the graduate program a year)
opportunities to select from a wide range of directed research areas
Rice University's connection with Houston's premier research, science and educational institutions
Rice University provides a unique learning environment for graduate study. With approximately 15 regular faculty, 13 instructors and 34 graduate students in the department, the low student-to-faculty ratio encourages easy interaction.
Students flourish within a setting that features:
small interactive seminars
reading courses
one-on-one instruction
Faculty members take a personal interest in their students, both during their graduate studies and after graduation. Our students also have the opportunity to interact with graduate students and faculty in the Rice Departments of Computational and Applied Mathematics, Statistics and Computer Science.
Graduate Student Housing
Rice's graduate students live off campus, either in nearby rental properties or at the university-owned Rice Graduate Apartments, Morningside Square Apartments or the Rice Village Apartments. Learn more about Rice's convenient graduate student housing options.
Campus Visit
We encourage you to visit Rice at any time for a firsthand look at the department and the beautiful, tree-lined campus near the heart of historic Houston. If you apply and are admitted, you will be invited to visit the campus later at departmental expense. During your time here, you will not only visit faculty, but you'll be hosted by current graduate students from whom you can learn more about graduate life and lifestyles in Houston. Can't take a campus tour today? See what research and graduate life at Rice University is like through a campus virtual tour.
Living in Houston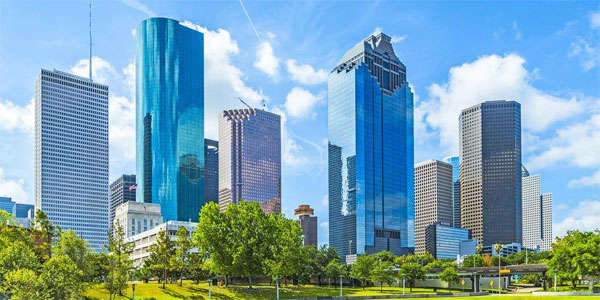 Houston is a vibrant, dynamic city full of opportunity and diversity. Rice students, faculty and staff can take advantage of all that the fourth-largest city in the United States has to offer — from attending premier performing arts events in the downtown theater district, eating at outstanding restaurants and shopping at trendy boutiques to cheering on the city's professional sports teams. Best of all, many of these activities, including those in a bustling downtown and thriving Museum District, are easily accessible from the Rice campus. Students also tap into the assets, energy, ideas and technology of Houston to augment the university's academic programs. Learn more about our city and watch "Houston: It's cooler Than You Think".