Summer 2011
Galveston teachers explore Mathematics at Rice University - Professor Shelly Harvey was profiled on the cover of the August 16, 2011 edition of the Village News (http://village-southwest-news.com/) on her participation in a mathematics institute for Galveston middle and high school mathematics teachers this summer. The goal of the institute was to help the teachers develop the knowledge and skills to ensure the success of their students. Dr. Harvey is shown here demonstrating an interactive approach to learning knots and knot theory.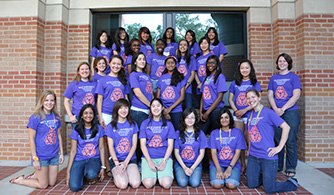 Mathematical Institute for Young Women June 20 - July 1, 2011
---
Spring 2011
SUNY Chancellor's Award for Excellence - Mathematics graduate Aaron Heap is one of the recipients of the State University of New York's Chancellor's Awards for Excellence for the 2010-11 academic year. Currently an assistant professor of mathematics at the State University of New York at Geneseo, he was recognized for his outstanding teaching as well as his research in the field of low-dimensional topology. Aaron received his PhD in 2004 under Professor Tim Cochran.
Putnam Mathematical Competition - Tengyu Ma, a visiting student at Rice last fall, has scored 8th in North America on the 2010 William Lowell Putnam Mathematical competition. This exam is an annual mathematics contest for college students and over the years many of its winners have become distinguished mathematicians. Rice's Putnam team was led by Professors Michael Boshernitzan and Sevak Mkrtchyan. Tengyu's home intitution is the Institute for Theoretical Computer Science, Tsinghua University.
East-DeMarco Fellowship - Mathematics graduate student Jon Fickenscher has been chosen to receive the first East-DeMarco Fellowship award for the Spring 2011 semester. The primary purpose of this fellowship is to provide support for a Wiess School of Natural Sciences graduate student who has demonstrated remarkable progress in their respective programs. The award is based on recommendations from the department and evaluation of the student's academic record. Congratulations Jon!
Math Circles Events at the University of Houston, March 18-20, 2011
Texas Ergodic Theory Workshop at the University of Houston, March 22-23, 2011
Triennial Ahlfors-Bers Colloquium March 24-27, 2011.
Texas Algebraic Geometry Symposium, April 22-24, 2011
Minor in MATH approved by Faculty Senate: The departmental webpage with the course requirements for a Minor in Mathematics.
Sunday, January 1, 2012 - 00:00