Fall 2010
Marshall Scholar - Mathematics Major Anthony Austin has been named one of this year's Marshall Scholars. This British scholarship allows intellectually distinguished American students to pursue 2 years of graduate study in the United Kingdom. He was the recipient of the 2010 Hubert E. Bray Prize in Mathematics as the outstanding junior mathematics major.
Invited Plenary Talk - Professor Shelly Harvey has been asked to give an invited plenary address at the Fall meeting of the Southeast Section of the American Mathematical Society to be held at Wake Forest, NC on September 23-25, 2011.
---
Summer 2010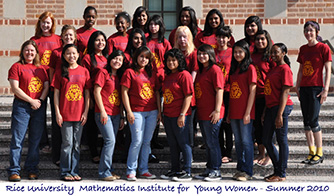 2010 Mathematical Institute for Young Women June 14-25, 2010
---
Spring 2010
Sloan Fellowship - Congratulations to Alexander Bufetov on receiving a prestigious Sloan Fellowship. These awards recognize "early-career scientists and researchers whose distinguished performance marks a unique potential to make substantial contributions to their fields". He also received a 2010 Grant for Young Scientists of the President of Russian Federation.
2010 Wolf Prize In Mathematics - Alumnus Dennis Sullivan ('63) has been awarded the prestigious 2010 Wolf Prize in Mathematics for his innovative contributions to algebraic topology and conformal dynamics.
2010 Graduate Student Awards - Congratulations to Jon Fickenscher, winner of the Tracy Thomas Award, and Bridget Franklin, winner of the Nettie S. Autry Fellowship.
2010 Hubert E. Bray Prize in Mathematics - This award is given annually to the outstanding junior mathematics major; this year's recepient is Anthony Austin.
NSF Fellowship - Jon Chaika, who will receive his PhD this May, has been awarded a prestigious National Science Foundation Mathematical Sciences Postdoctoral Research Fellowship to continue his research at the University of Chicago. The purpose of these fellowships "is to support future leaders in the mathematical sciences by enabling them to participate in research environments that will have maximal impact on their future scientific development." He has also received a concurrent appointment as a Dickson Instructor of Mathematics at Chicago as well.
Caltech Fellowship - Congratulations to Helge Krueger for winning a Postdoctoral Prize Fellowship in Theoretical Physics at Caltech beginning next Fall. These 3-year appointments are awarded on the basis of international competition and are intended to offer young scientists an opportunity to develop their research abilities by working with the Caltech faculty on currently active topics.
Saturday, January 1, 2011 - 00:00